Back
H145 helicopter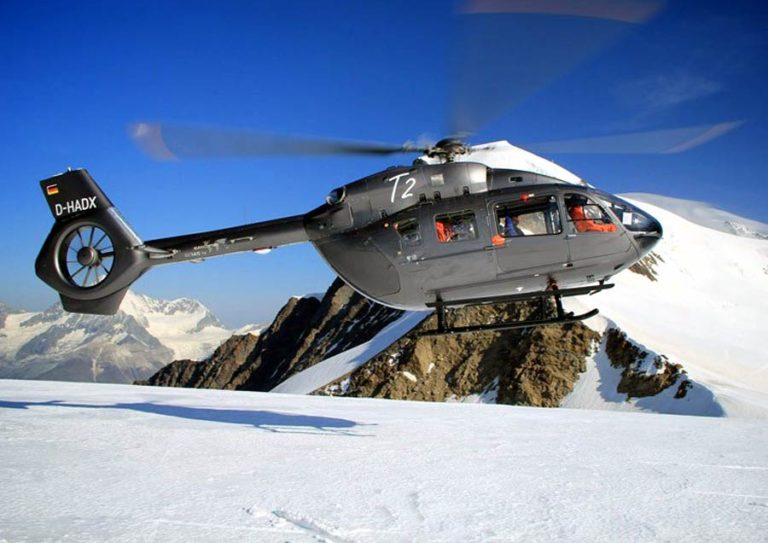 © Airbus Helicopters

Designed to deliver excellent performance throughout the flight envelope, Airbus Helicopters' H145 (formerly called the EC145 T2) is the latest member of its 4-ton-class twin-engine rotorcraft product range – with designed-in mission capability and flexibility, especially in high-and-hot operating conditions. Compact in size, this helicopter's small footprint and large and flexible cabin make it the aircraft of choice for a variety of civil missions.

Versatile and proven

The H145 joins Airbus Helicopters' multi-purpose EC145/BK117 family, from which some 1,000 rotorcraft are in service worldwide – logging a combined total of more than four million flight hours.

Bringing a large cabin, a compact airframe, and powerful engines, the H145 responds to a multitude of mission needs.

Enhancements incorporated in the H145 include Airbus Helicopters' innovative Helionix® avionics suite and 4-axis autopilot; increased performance through the Arriel 2E engines; an anti-torque system with the latest version of the company's signature Fenestron® shrouded tail rotor; and a new tail gearbox as well as an upgraded main gearbox.

Flexible and capable

The H145's designed-in modularity and large unobstructed cabin with flat floor contribute to the helicopter's flexibility for a full range of applications, accommodating up to 8 passengers in standard configuration and 10 passengers in a higher density configuration, plus one or two pilots.

This multi-purpose rotorcraft can be tailored for emergency medical services and police duties, along with aerial work, passenger transport, including business and private aviation, and airlift flight to offshore platforms. For multi-mission operators, the H145 can be reconfigured for different roles quickly and easily.

Performance multiplied

The H145's enhanced Arriel 2E powerplants and their dual full-authority digital engine control (FADEC) – along with the helicopter's upgraded main and tail rotor systems – guarantee an unprecedented level of performance in both hover and one-engine inoperative (OEI) conditions.

The Fenestron technology brings to the H145 benefits such as improved flight and ground safety, enhanced anti-torque control efficiency, reduced power demand in forward flight, and lower noise and vibration levels.

For its use on the H145, the Fenestron has a new-design tail gearbox with lower maintenance costs, and incorporates a duplex tail rotor actuator and dual hydraulic circuits – installed in a new, damage-tolerant all-composite tail boom.

Enhanced safety

Airbus Helicopters' new Helionix® avionics suite provides undisputed superiority for in-flight envelope protection, pilot assistance and situational awareness – resulting in unprecedented flight safety levels.

Meeting the latest international avionics standards, the Helionix installation incorporates the most innovative alerting and self-monitoring system.

Additionally, the H145 is equipped with the most advanced dual-duplex, four-axis autopilot specifically designed for helicopters. This offers high flight stability and precision, unique flight envelope and over-limit protection, automated takeoff, and fully-coupled approaches to hover, among other benefits.

Further contributing to operational safety are the rotorcraft's high-set main rotor and tail boom, and the Fenestron® shrouded tail rotor.

A "maintenance-friendly" helicopter

Building on Airbus Helicopters' extensive experience gained with the BK117/EC145 helicopter family, the H145's maintenance procedures optimize the intervals between periodical inspections, ensuring increased availability and reduced operating costs.

The optional helicopter usage monitoring system (HUMS) keeps track of the engine's health in accordance with usage conditions, resulting in further availability and enhanced cost-effective maintenance.
Other products from Airbus Helicopters
Similar products