Back
EC145 helicopter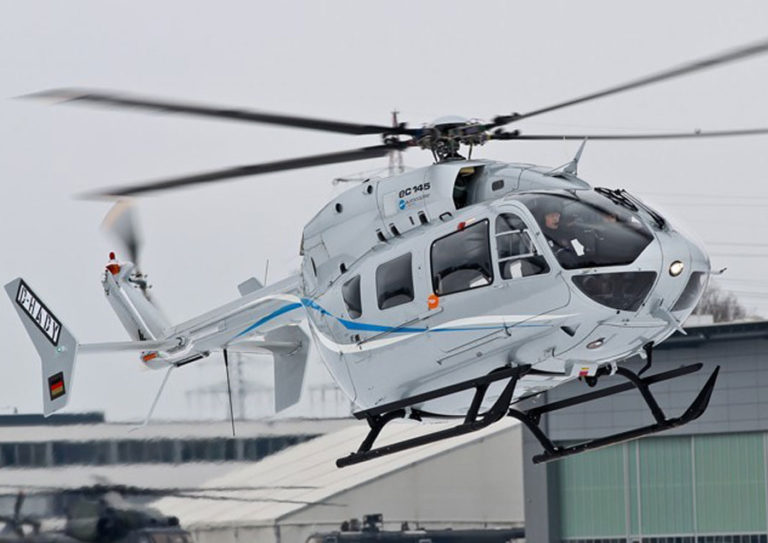 © Airbus Helicopters

The proven twin-engine 3-to-4-ton-class EC145 (formerly known as the EC145e version) is ready to take on diverse aerial work missions, ranging from firefighting to internal and external load transport.
Aircraft.

Proven and reliable, with VFR certification

The EC145 is at the top of its class in the medium-sized, twin-engine helicopter category, incorporating Airbus Helicopters' advanced cockpit design, avionics and a sophisticated electrical system.

The aircraft is a member of the proven EC145 family, which today has logged over one million flight hours with its fleet of more than 650 aircraft worldwide.

The EC145 is equipped with two Turbomeca Arriel 1E2 engines that deliver outstanding performance and vital power reserves – even in one-engine-inoperative (OEI) scenarios. Its reliability is further enhanced by a completely separate fuel system, a tandem hydraulic system, a dual electrical system and redundant lubrication for the main transmission.

It is certified for single pilot VFR (visual flight rules) day and night operation.

No compromise on safety

The EC145's integrated glass cockpit includes Airbus Helicopters' Vehicle and Engine Multifunction Display (VEMD®) and a caution and advisory display (CAD) to enhance pilot efficiency – thereby reducing pilot fatigue and enhancing flight safety.

This helicopter's agility and handling qualities are exceptional, even in high winds, while the cockpit design provides an unmatched field of view in all directions.

The central panel display system, consisting of two additional LCD displays, includes Airbus Helicopters' first limit indicator, which simplifies engine and torque monitoring, allowing pilots to dedicate more of their attention to the mission requirements.

Other built-in safety aspects include an energy-absorbing fuselage and seats, along with crash-resistant fuel cells.

Increased payload

Compared to previous versions of the EC145, this latest variant has an increased payload of 330 pounds (149.5 kilograms), which results in a payload of up to 3,746 pounds (1,699 kilograms).

Comfortable and quiet

The EC145 is the quietest helicopter in its class, at 6.7 decibels below ICAO sound level specifications. It has a proven hingeless rotor system with enhanced rotor blades, which ensure low sound and vibration levels.

Compared to other rotorcraft in its range, the EC145 offers a significantly larger cabin that features excellent outside visibility for pilots, crew and passengers; and a useable interior volume enhanced by the absence of partitions, center posts or door posts.

The helicopter can seat up to 12 pilot/s and passengers.
Other products from Airbus Helicopters
Similar products