Back
R22 BETA II Helicopter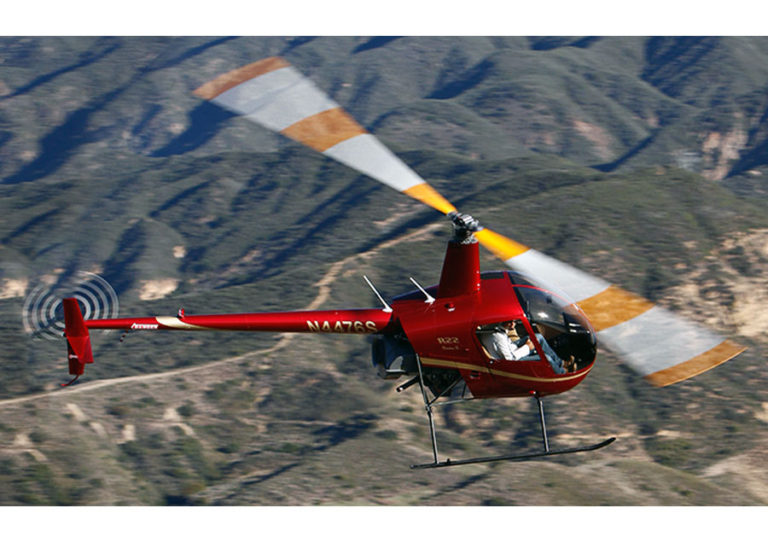 © Robinson Helicopter
The Robinson R22 Beta II is flown throughout the world for many applications, ranging from flight training to livestock mustering to patrolling pipelines that require dependability, low operating costs, and performance.
The R22 Beta II incorporates a Lycoming O-360 four-cylinder, carburetor-equipped engine fueled by 100L grade aviation gasoline. This 145 hp engine is derated to 131 hp for five minutes at takeoff and 124 hp for continuous operation.
The R22 seats two adults and occupants have panoramic views due to R22's large windows. Acoustical foam lowers cabin noise. A heavy-duty muffler and low tail-rotor tip speed lessen flyover noise.
FEATURES


Simple two-bladed rotor system eliminates the need for lag hinges, dampers and hydraulic struts


Proven aluminum and stainless steel construction of main rotor blades minimizes environmental wear and tear


Automatic clutch engagement simplifies the starting procedure, reducing the possibility of an overspeed during start-up


Carburetor heat assist enhances safety by adding carburetor heat when the collective is lowered and reducing carburetor heat when the collective is raised


Center positioned T-bar cyclic enables a comfortable grip position and allows trouble-free entry and exit of the cabin


Left side flight controls are removable


Transmit, intercom, and memory channel radio controls are conveniently integrated into cyclic grip


Voice-activated intercom eliminates the need to use intercom switches during doors-on flights. Intercom switches are included for doors-off flights


RPM governor monitors engine speed and adjusts the throttle automatically to maintain optimal RPM


Rotor brake allows the pilot to stop the rotors quickly, reducing shutdown time and risk of injury to passengers and ground personnel


LED anti-collision and navigation lights


Storage under each seat for personal belongings


Collective-activated hourmeter


Similar products