Back
H135 helicopter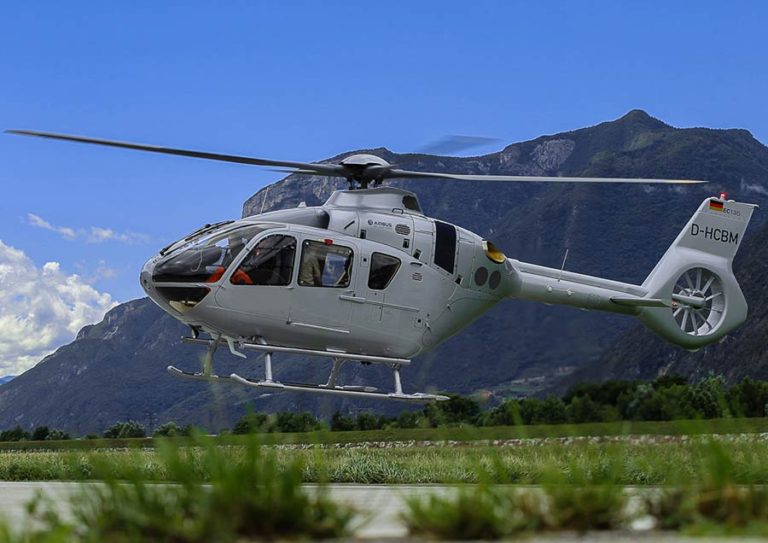 © Airbus Helicopters

H135, versatility in high and hot environments

One of Airbus Helicopters' most successful light aircraft, the H135 (formerly known as the EC135 T3/P3) is known for its high endurance, compact build, low sound levels, reliability, versatility and cost-competitiveness. This twin-engine helicopter can perform many different missions, landing almost anywhere, particularly high and hot, while carrying more payload over longer distances than other rotorcraft in its category.

Backed by experience and a long heritage

The H135 is a member of Airbus Helicopters' light-medium EC135 family of helicopters.

Today around 1,100 twin-engine EC135s have been delivered and are in service in nearly 60 countries. With nearly 300 operators, these versatile aircraft have together flown more than 3.25 million hours.

A high performer

Fitted with a bearingless main rotor, Airbus Helicopters' signature Fenestron® shrouded tail rotor, engine software modifications, and a new lateral air intake, the H135 provides additional payload and delivers best-in-class performance throughout its flight envelope.

Two FADEC-equipped engine options are available on the helicopter: Turbomeca's Arrius 2B2PLUS and Pratt & Whitney Canada's PW206BB. Both of these reliable turboshaft powerplants provide outstanding performance and vital power reserves – even in one-engine inoperative scenarios – along with low fuel consumption.

Safety by design

No compromise has been made between safety and performance: the H135's state-of-the-art cockpit environment provides the highest possible safety levels.

Safety is additionally enhanced by the increased power of the H135's engines (Turbomeca's Arrius 2B2PLUS and the Pratt & Whitney Canada's PW206BB).

Optional single- or dual-pilot IFR avionics suites ensure reliability in the most demanding weather conditions, which is appreciated in missions such as airlift flights to offshore oil and gas platforms, as well as utility/aerial work duties that include servicing offshore wind turbines.

Quietly in its class

As one of the quietest helicopters in its class, the H135's noise footprint is markedly lower than older-generation helicopters in the same category. This matters most to customers who regularly fly over cities and in densely populated areas, for corporate transportation, emergency medical services and police duties.

Easy to maintain

The H135's simple design makes maintenance fast and easy, ensuring optimal dispatch reliability and lower operating costs.

The H135 is the benchmark for maintenance costs, thanks to its long inspection intervals, intermediate inspection at 500 flight hours, and periodic inspections every 1,000 hours, or three years.

The H135 has the lowest direct operating cost in its class, making it one of the lowest cost twin-engine helicopters to operate.
Other products from Airbus Helicopters
Similar products