Back
H145 M Helicopter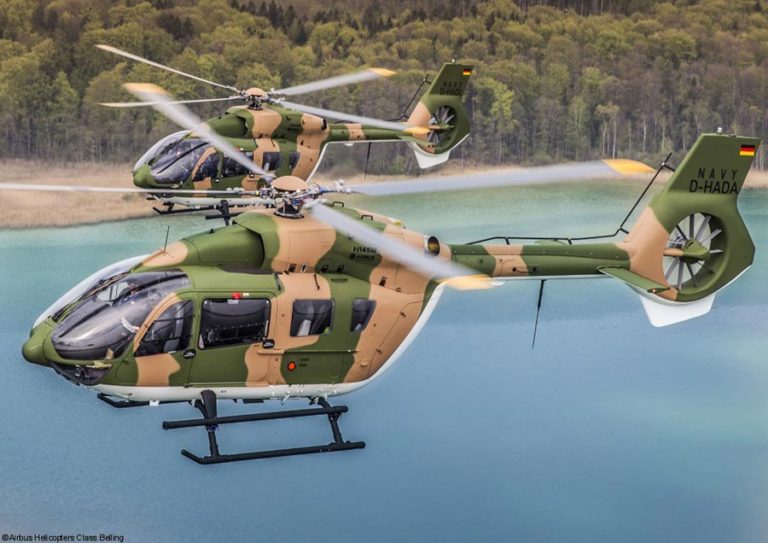 © Airbus Helicopters

Light attack

Equipped with an incremental modular weapon system, the H145M can handle all types of operational light attack scenarios, from conventional to asymmetric conflicts.

Ballistic and guided weapons compatible with the H145M include 7- and 12-tube rocket launchers, a 20-mm. cannon pod, 12.7-mm machine gun pod and air-to-ground missiles. Growth potential exists for laser-guided rockets.

Special operations

Special operations teams can quickly access the aircraft thanks to its spacious cabin, which has two large sliding side doors and double clamshell doors at the rear.

Troop safety is improved by the Fenestron® shrouded tail rotor, particularly for flight operations in confined landing sites and whenever the rotor is turning on ground.

Troop transport and utility

For troop transport and utility missions, the H145M's unobstructed flat floor can accommodate 10 troops, who can embark/disembark through both sides and the rear clamshell doors. They are afforded excellent exterior visibility through large side windows, along with windows integrated in the clamshell door.

Mission equipment packages include a fast rope system, cargo hooks and hoists.

The high-set main rotor and Fenestron® shrouded tail rotor provide unparalleled safety, access in confined landing zones, and loading/unloading of cargo, passengers and patients while the rotors are turning.

Intelligence, surveillance, reconnaissance

The optimized ratio of the cabin volume to the ground footprint – along with its low sound levels and the reduced infrared signature – makes the H145M a discreet and efficient platform, well suited to Intelligence, Surveillance, Target Acquisition, and Reconnaissance (ISTAR) operations.

Maritime security

The added value of the 4-axis autopilot combined with a weather and search radar, emergency floats, a life raft and an emergency locator transmitter (ELT), allow the H145M to fulfill day and night maritime security missions.

These include exclusive economic zone surveillance and control; maritime counter-terrorism/piracy; ship replenishment; and search and rescue (SAR) and medical evacuation at sea, among others.
Other products from Airbus Helicopters
Similar products