Back
Embraer – E195-E2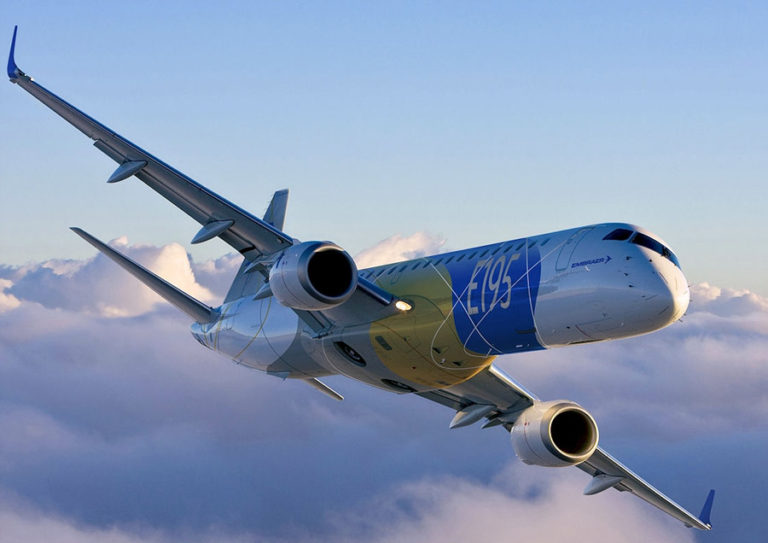 © Embraer

HIGHER CAPACITY, LOWER COST. 

An E-Jet that is ideally positioned between larger, new generation, single-aisle jets and smaller capacity equipment. Flying in mainline, regional or low-fare environments, the operating economics oft he E195-E2 are the best among aircraft in its category.

4TH GEN FULL FLY BY WIRE
Better control. A smoother flight.
Fourth generation full fly-by-wire digital closed-loop control on the E2 improves flying qualities and boosts fuel efficiency.

A full fly-by-wire system saves weight, increases pilot control, improves aircraft performance and provides complete envelope protection in all phases for a smoother flight.

Embraer has a long history using fly-by-wire technology. The current generation of E-Jets, the mid-size Legacy 450/500 (which were the first full fly-by-wire aircraft in their class) and the KC390 military transport used FBW.

Previous experience with these three aircraft helped to introduce mature 4th generation fly-by-wire control on the new E-Jets E2s.

AHEAD-PRO

AHEAD-PRO is a computational web-based platform to continuously monitor the health of the fleet, providing timely maintenance information in a friendly and straightforward way.

With AHEAD-PRO aircraft systems health condition is systematically assessed and unplanned maintenance of monitored systems is avoided by means of failures occurrence prediction.

Moreover the activities of fault identification, troubleshooting and resources planning occur before the aircraft lands its destination, optimizing airline turn-around-time between flights.

AHEAD-PRO offers functionalities to optimize all steps to execute Health Monitoring process in the airline, from data acquisition to time-to-failure prognosis.
Other products from Embraer
Similar products