Back
Diamond Aircraft DA42-VI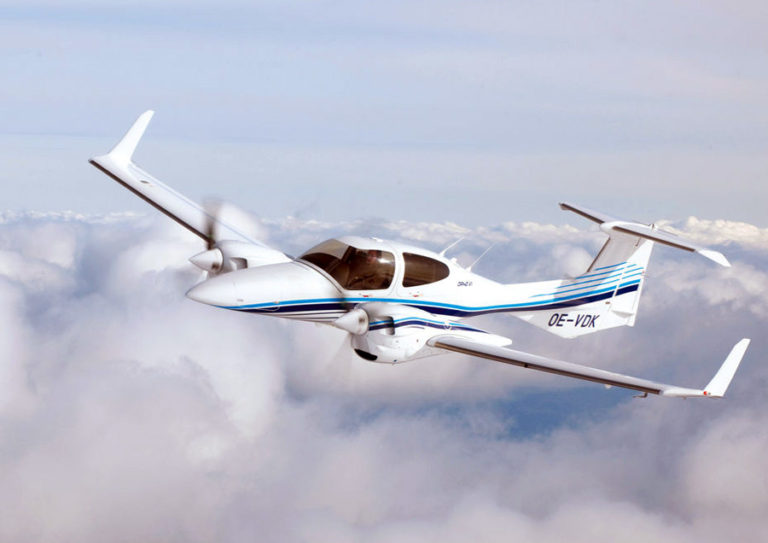 © Diamond Aircraft
Outstanding performance. Impressive range. Surprising weight.
 You want to continue flying where single engine pilots have no more option? Then the DA42-VI is your first choice! Built out of light-weight, strong glass and carbon fiber and powered by two Austro Engine top-of-the-line 168 hp AE300 jet fuel engines the successor of the DA42 NG combines all the advantages you love in the NG with even better performance and comfort.

Well-designed with new accents such as improved surface, revised cowling and nacelle and a new propeller, this aircraft was built to exceed your expectations.
Advanced avionics and all weather capability at day and night
The capable Garmin G1000 cockpit makes flight planning and plan changes in the air less challenging.
A dual-alternator, dual battery system provides you with the confidence that your avionics will be there when you need them. The anti-static primer combined with static wicks ensures crisp reception especially in precipitation when you need it most.
Your DA42-VI is also certified for IFR (Instrumental Flight Rules), VFR (Visual Flight Rules) and Night VFR.
A proven TKS ice protection system helps the DA42-VI to withstand flight into known icing conditions. Wings, tail, propellers and windshield are protected with TKS fluid, systems are redundant and rigorous flight tests have demonstrated the ability of the DA42-VI to withstand icing long enough to get you back to safety.
Similar products