Back
Cessna Citation M2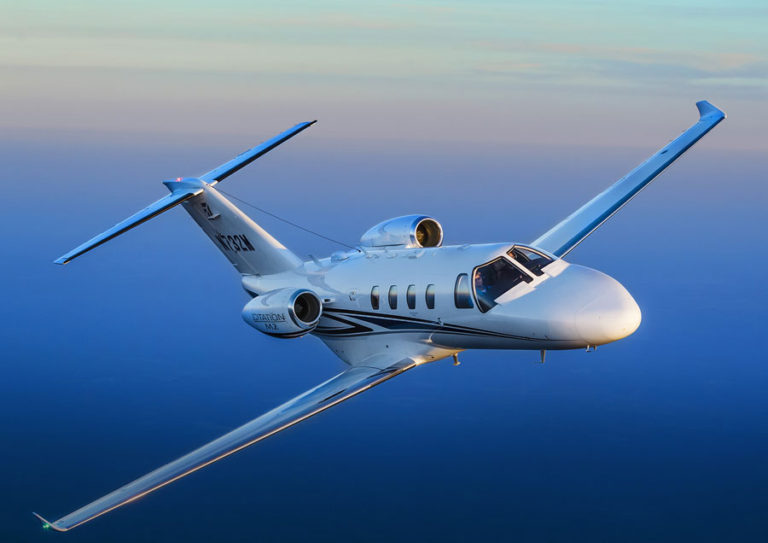 © Cessna
Achieve new heights
The Citation® M2® jet is the ultimate combination of beauty and efficiency. The M2 is the entry level jet that pilots have been asking for. Perfect for corporate, charter or private use, the M2 features a redesigned interior with excellent in-cabin technologies, updated touch-controlled avionics suited for a single pilot and two powerful Williams FJ44 engines, facilitating cruising speed of up to 400 knots.
Striking Style
The Citation M2's aluminum airframe was engineered with multiple structural load paths, system redundancies, and optimal aerodynamics.
Precision At Your Command
User-friendly touch screens powered by Garmin® G3000™ avionics make for intuitive control, while Synthetic Vision Technology (SVT™) provides a clear, concise picture of your flying environment.
The M2 is equipped with a fully digital, dual-channel autopilot system equipped with many features for added safety, redundancy and reliability. Integrating data from the avionics system, the AP is buillt to inspire confidence while ensuring optimum smoothness and comfort.
ENHANCED PERFORMANCE
The system uses pre-stored airspeed-limit data along with autopilot gains that are scheduled to optimize performance to offer excellent stability and control. The autopilot maximizes aircraft performance with precise lateral and vertical navigation guidance for all phases of flight.
PRECISION AT YOUR COMMAND
The autopilot system is simple and straightforward to operate yet sophisticated and state-of-the-art, which makes flying the M2 easier, consistent and more enjoyable.
Standard Features


Garmin FMS with dual WAAS-enabled GPS receivers for navigation


Weather Avoidance Radar


Terrain Avoidance Warning System (TAWS-B)


Garmin Traffic Collision and Avoidance System (TCAS I)


Dual Attitude Heading Reference System


Dual Air Data computers


Jeppesen ChartView


Garmin Safe Taxi


Digital Audio System


Optional Avionics Include


Garmin FMS with dual WAAS-enabled GPS receivers for navigation


Weather Avoidance Radar


Terrain Avoidance Warning System (TAWS-B)


Garmin Traffic Collision and Avoidance System (TCAS I)


Dual Attitude Heading Reference System


Dual Air Data computers


Jeppesen ChartView


Garmin Safe Taxi


Digital Audio System


Other products from Cessna
Similar products