Back
M350 – Piper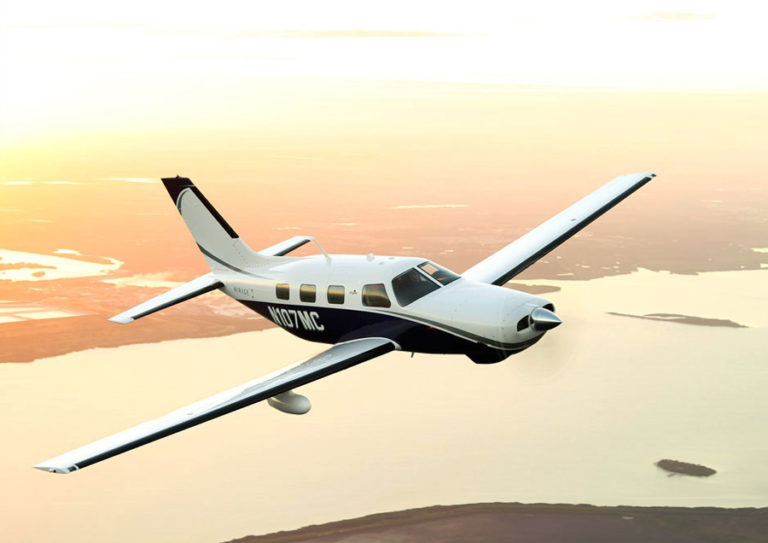 © Piper

The Piper M350 is the only current production pressurized piston-engine aircraft available today. It leads the piston pack with an impressive 213 ktas cruising speed, as well as the ability to cruise up to 25,000 ft in pressurized comfort. With standard dual turbochargers, owners can also expect a consistent fuel burn at any altitude keeping operating costs down.

INTERIOR DESIGN

COMFORT, STEPPED UP

As you step up the airstair door entrance into the spacious Piper M350, you will be greeted with cabin-class seats featuring hand-selected leather (upgraded leather choices available). These natural leather seats offer not only luxury, but flexibility. With adjustable backrests and the ability to fold down, even more cabin space can be created for your passengers or luggage. Passengers have easy access to the interior baggage compartment and amenities such as USB charging ports. Situated around the cabin, you can also find the standard individual cup holders, reading lights, air vents, and built-in work table. LED accent strip lighting fills the cabin in warm light. All of these attributes work collectively to make any business or personal flight as comfortable as possible for pilots and passengers alike.
The M350 interior is available in four distinct color palettes.

PULSE OXIMETER

The M350 features a panel-mounted pulse oximeter. The pilot's heart rate and blood oxygen saturation can easily be measured and displayed on the MFD, along with continuous monitoring of carbon monoxide levels in the cabin

HYPOXIA RECOGNITION SYSTEM WITH AUTOMATIC DESCENT MODE

The Hypoxia Recognition System detects pilot incapacitation as a result of hypoxia by monitoring pilot interaction with the PFD, MFD, and Autopilot Controller at altitudes above cabin 14,900 feet with the autopilot engaged. If no interaction is detected within a specified time period, this system will engage Automatic Descent Mode and bring the aircraft to a lower altitude in an effort to allow recovery from hypoxia. The M350 can safely fly itself, without assistance, to lower altitudes in the unlikely case the pilot becomes unresponsive.

SYNTHETIC VISION

Garmin Synthetic Vision Technology takes situational awareness to a new level, regardless of what you can or cannot see through the windshield. Acquiring information from multiple certified databases, synthetic vision graphically depicts obstacles, terrain, water, and airports, providing you with all of the information you require for safer travel.

COUPLED GO-AROUND

With stall protections developed
 as part of the USP system, coupled go-arounds are possible without disengaging the autopilot. With this feature, the autopilot remains engaged and will fly the missed approach. If power is not added, the USP system will maintain a speed just above stall warning, adjusting airplane pitch attitude as required.

 
Similar products