Back
TBM 910 – Daher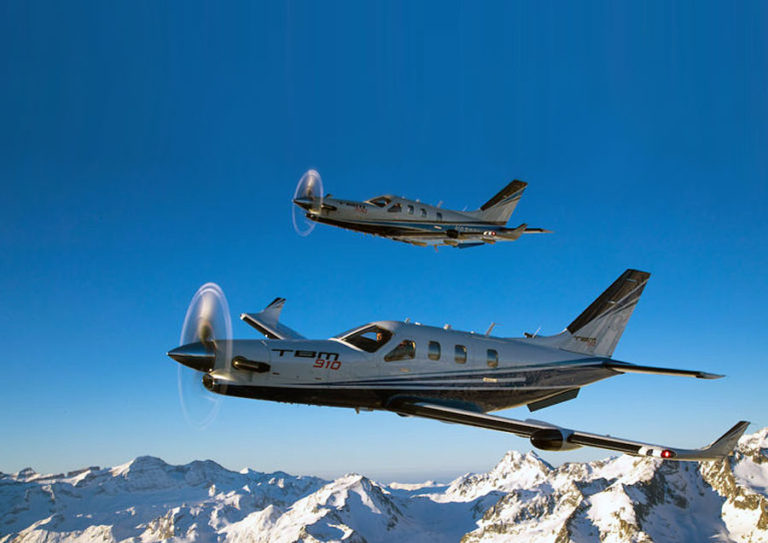 © Daher

Overview

The TBM 910 benefits from the same range, performance and technical features that have contributed to the TBM 900's success in Daher's six-passenger pressurized single-engine turboprop aircraft product line.

There are two main differences between the two models:
The TBM 910's new Garmin G1000 NXi all-glass integrated flight deck, which replaces the predecessor G1000 configuration,
Cabin interior enhancements with new seat shapes and additional fittings, which are identical to the high-end TBM 930 version.

Main features

Carries six adults
Has a large, quiet, air-conditioned, luxury cabin
Climbs to 31,000 ft in as little as 18 minutes
Flies over 1,585 nm with NBAA IFR reserves
Can slip into a 2,100 ft strip or a mountain runway.

STATE-OF-THE ART AVIONICS

Garmin G1000 NXi
The NXi offers pilots a state-of-the art flight display design enhanced by powerful processors. This hardware architecture support faster map rendering and smoother panning throughout the displays, wireless cockpit connectivity, including wireless database updates using Garmin Flight Stream FS 510, map overlay on the Horizontal Situation Indicator. A wealth of data for the TBM 910 pilot at his fingertips.
The Flight Stream systems enables Database Concierge, the wireless transfer of aviation databases from the Garmin Pilot app on a mobile device to the G1000 NXi system.
Its glass flight deck presents flight instrumentation, navigation, The G1000NXi system also includes the GFC 700 – the first entirely new autopilot designed and certified for the 21st century. The GFC 700 is capable of using all data available from the G1000 to navigate.
TBM e-Copilot®
The Daher TBM 910 benefits from a concentration of innovation, technology and safety improvements that can be compared to bringing an "e-copilot" into the cockpit to reduce the pilot's workload. These innovations reflect Daher's policy of constant improvement, which offers TBM customers the latest technology available for the optimized use of their aircraft

Exterior

Carbon Fiber Cowlings
Dorsal Fin
Tailcone Light
Gear Doors
Composite Winglets
5 Blade Composite Propeller and new spinner
De-iced air inlet and new inertial separator
Exhaust

Interior

Simplified Engine Management
Seat Comfort
Electrical Power System - faster starts

Maintenance & Warranty

Daher offers one of the industry's best nose-to-tail warranties through the unique TBM Care Program (TCP)
TBM Care Program (TCP) includes scheduled maintenance inspections for 5 years or 1,000 hours, whichever comes first. With every new TBM 910, Daher provides customers who select the 'Elite' package with its TBM 910 Care Program (TCP) as part of the purchase package. This exclusive program gives the initial retail owner of a TBM 910 complimentary scheduled maintenance – including annual inspections – for the owner's first five years or 1,000 hours of operation with the aircraft. The TCP covers all scheduled maintenance costs (with the exception of consumable items). In addition, it provides complimentary CAMP computerized maintenance tracking and follow-up to the initial retail owner for the first five years of ownership (see below). Pratt & Whitney Canada's Eagle Plan also can be purchased from Daher – resulting in a warranty extension to seven years or 2,500 hours of operation for the TBM powerplant.

Support & Services

A GLOBAL NETWORK TO CARE FOR THE TBM. Take a powerful, reliable engine, a rugged airframe, advanced aerodynamics and a state of-the-art glass cockpit. Combine that with global support services, mature technologies, the reputation of Daher and a 24-hour hotline. Result: all TBM aircraft deliver outstanding dispatch reliability, with the best safety record in their class. Daher's roots in aviation rely on more than century of expertise, ensuring the know-how to make the right technical choices.
To provide efficient support at remote locations, Daher Airplane Business Unit technical support field staff is on-call 24/7. TBM Support representatives are always available to answer phone calls and to help operators decide on the best course of action. In addition to online and cell phone support, 15 TBM service centers in North America – plus 15 others worldwide – provide the most complete service package in the industry.
EASY TRAINING in the USA. All initial TBM flight training in the Americas is provided through TBM's training partner, Simcom International. Simcom utilizes three Level 5 flight training devices that are based on real TBM cockpits, in either EFIS/GNS 530 or G1000 configurations. Simcom's headquarters in Orlando, Florida centrally positions the training center for TBM pilots with US licences.
Other products from Daher