Back
Self Bag Drop (automated/Scan&Fly)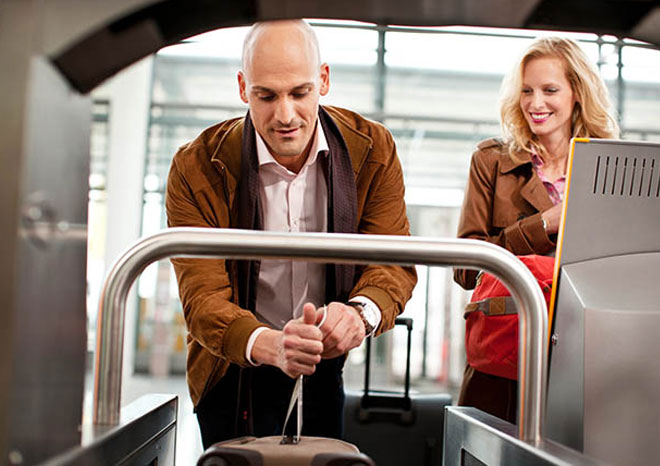 © Vanderlande
To guarantee seamless integration with the baggage handling system, Vanderlande has selected two value-added self bag drop (SBD) systems as standard – Scan&Fly and Automated Bag Drop. These deliver a wide range of benefits, including:


faster baggage drop-off


shorter passenger queues


reduced labour costs


improved efficiency in handling passenger flow


enhanced passenger experience


increased retail revenue from passengers.


Both solutions can be equipped with an optional payment functionality for additional bag charges.
Scan&Fly
The Scan&Fly module uses a handheld device to read boarding cards and bag tags. It can fit over existing check-in conveyors and can be used as a hybrid system – either as an SBD or a conventional service desk. An award-winning design, the flexible Scan&Fly interface slots into any airport's current check-in system


Scan&Fly meets the demands of today's passengers for speed, ease of use and waiting time. As an industry leader, Vanderlande helps airports and airlines to define and implement the best self-service baggage check-in solutions. It can install and integrate any advanced technology currently available on the market.




Automated Bag Drop

Vanderlande's Automated Bag Drop system comprises of an SBD kiosk combined with a scanning portal. This houses automatic scanners, scales and a shutter door. Other optional extra s include the scope for RFID and integrated biometric identification.

The automatic bag tag scanning process greatly improves safety and security by preventing incorrectly labelled baggage from entering the system. In addition to flexible feature choices, the freedom also exists for airports to select their preferred IT partner.Vanderlande's Automated Bag Drop acts as a complete SBD system, and can be customised to the needs of the airport. A focus on individual needs means that Vanderlande's SBD solutions are fast, flexible and user-friendly, and have been designed to add value to existing airport environments.