Back
Radio control unit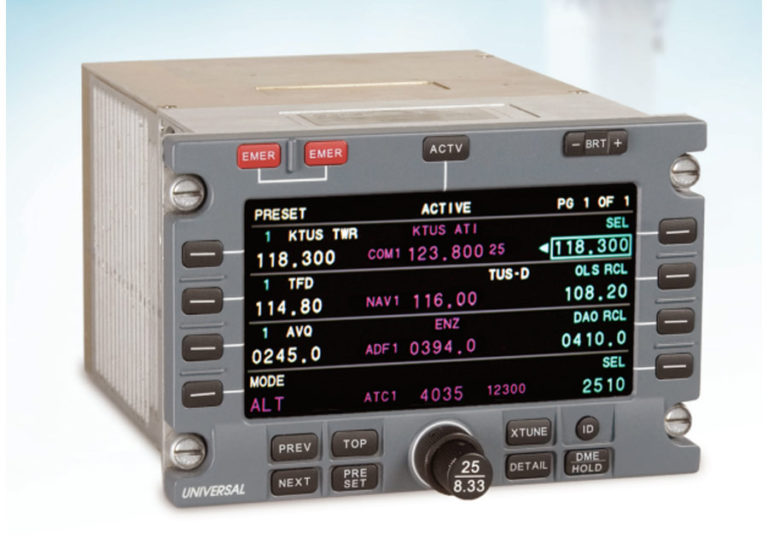 © Universal Avionics

Add Sophistication and Flexibility to Aircraft Radio Control and Tuning Operations

Universal Avionics' Radio Control Unit (RCU) provides a centralized, easyto- use control interface, with radio tuning and mode control function. Consolidating multiple radio control heads into a single, advanced controller will provide savings in space and weight, while increasing efficiency and adding sophisticated radio tuning capabilities to your flight deck.

Bezel-mounted controls provide quick and simple tuning of manual, prestored, standby, previous, next, and suggested frequencies/ identifiers. Eighteen pilot-selectable preset frequencies can be accommodated for NAV, COM and ADF radios. You can conveniently tune any onside or offside COM, NAV and ADF radios as needed. The RCU also includes a unique guarded-keyed emergency function which automatically sets the preset frequencies for the COM radio and transponder to 121.500 MHz and Code 7700 respectively. The option to enter an eight or ten character flight ID is also available.

The RCU seamlessly integrates with Universal Avionics' Flight Management System (FMS), or can be integrated into your flight deck as a stand-alone radio tuning device. When interfaced to the FMS, the FMS will function as a backup tuning source, as well as providing the RCU with up to six suggested frequencies based on the active flight plan (VHF COM, NAV and ADF radios), which reduces pilot workload.

The RCU features a high resolution, color LCD display. An LED backlighting feature adds higher reliability and lower power consumption, reducing heat in the cockpit.

To support special missions operators, a Night Vision Goggle (NVG)- compatible variant is also available.