Back
Cabin management systems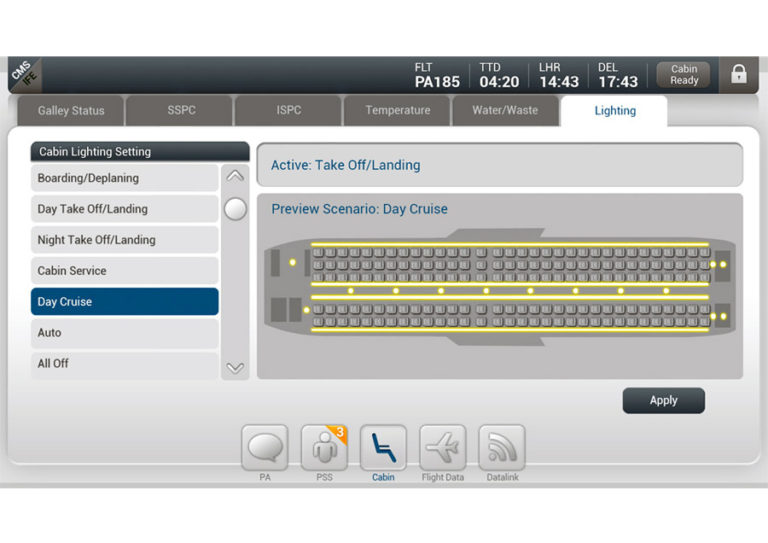 © Panasonic Avionics

Panasonic Avionics incorporates cutting-edge technology into its Cabin Management Systems (CMS) to deliver lightweight, low power solutions that are easy to install and operate, and reduce the inflight workload of the airline cabin crew. Panasonic's latest innovation is an integrated solution that enables the cabin crew to control the entire inflight experience, from the environment to entertainment.

The graphical user interface (GUI) based cabin crew terminal was designed in conjunction with major aircraft manufacturers and cabin crews. Intuitive and easy to use from a single terminal, the PA and inter-plane communication systems can be operated, cabin lighting adjusted, and the "No Smoking" and "Fasten Seatbelt" alerts illuminated and turned off. Water and waste levels can be tracked, while the integrated maintenance features enable onboard system monitoring and troubleshooting.
Additional options that enhance the standard cabin control functions offered by our CMS solutions are also available. A 4.3-inch Crew Services LCD screen can be installed in the overhead passenger service units (PSU) to display flight information, moving maps and safety videos. CMS incorporates Pre-Recorded Announcement and Music (PRAM) functionality, allowing music that can also be played while passengers are boarding. Safety messages, such as "Please Fasten Your Seatbelt" can be recorded in multiple languages, and played over the cabin speakers as needed.

Panasonic integrates the aircraft's CMS and inflight entertainment (IFE) systems with the Global Communications Services to deliver a seamless, end-to-end solution, featuring shared system functionality for simple operation by the cabin crew, backed by real-time monitoring by its Mission Control Center, and turnkey support from our worldwide maintenance organization. Panasonic's unique, elegant solution reduces the number of components and line replaceable units, and is lighter in weight, more compact, and uses less power.