Retour
Beechcraft AT-6 WOLVERINE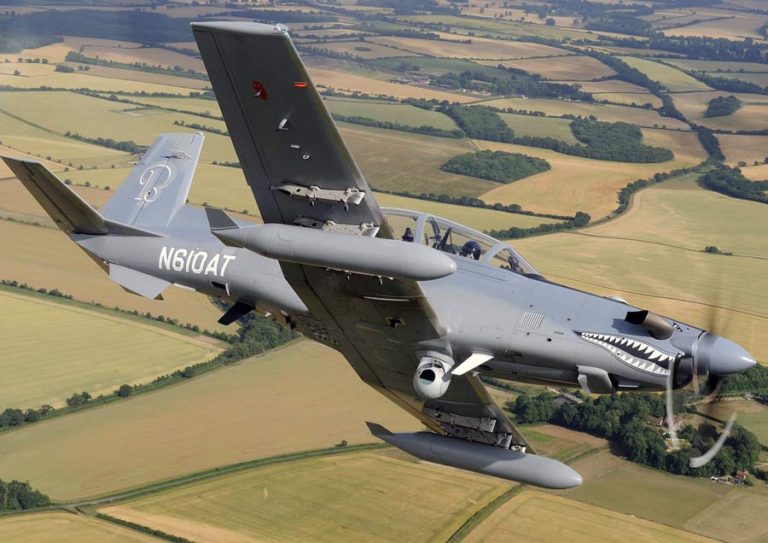 © Beechcraft

LIGHT ATTACK

World Class Light Attack and Armed Reconnaissance with a Proven Heritage.

HELLFIRE: APPLY AS NEEDED

Brought to you by the same company that delivered the U.S. Air Force T-6A and U.S. Navy T-6B, the Beechcraft® AT-6 Wolverine is a multi-mission aircraft system designed to meet a wide variety of warfighter needs and accommodating 95 percent of the aircrew population.

World-class Lockheed Martin A-10C mission computer with CMC Esterline glass cockpit and flight management systems command the AT-6 Wolverine.

The AT-6 provides the most powerful allied-compatible ISR and targeting suite available with an L3 Wescam MX-15Di multi-sensor suite, which provides color and IR cameras, laser designator, laser illuminator and laser rangefinder.

MORE VERSATILE

The AT-6 Wolverine can accommodate more than 66 standard load configurations as well as its non-standard asymmetric configurations, which provides the most versatile mission readiness in its class.

MISSION READY

This mission ready aircraft leverages significant Department of Defense investment in people, platforms and programs to meet Light Attack and Armed Reconnaissance requirements. The AT-6 Wolverine covers a wide-mission spectrum that includes training, manned Intelligence Surveillance and Reconnaissance (ISR), and light precision attack. Its non-traditional capabilities are ideal for internal defense and civil support missions.
Autres produits de Beechcraft
Produits similaires