Back
Air Data Display – Aircraft Analog Altimeter – AD32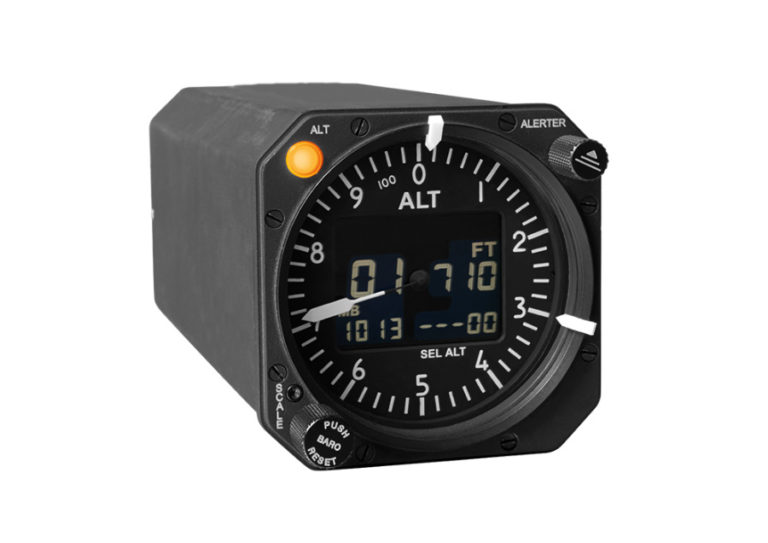 © THOMMEN AIRCRAFT EQUIPMENT

ELECTRONIC ALTIMETER WITH INTEGRATED DIGITAL AIR DATA COMPUTER

Overview :

INTEGRATED DESIGN
Digital air data computer incorporated into electronic encoding CDP altimeter with altitude alerter

COMPLIANCE WITH HIGHEST CERTIFICATION STANDARDS
TSO-C106 (air data computer) / TSO-C10b (altimeter) / TSO-C88a (altitude encoder) / DO-160D / DO-178B Level A

EASY INSTALLATION
Several case design options (ARINC408, 3 ATI), rugged design, variety of pneumatic adapters and installation kits

PERFECT AVIONICS SYSTEM INTEGRATION
Extensive computation of flight relevant data provided per configurable ARINC429 and analogue in-/outputs

INTEGRATION INTO COCKPIT LIGHTING SCHEME
5V or 28V, white/red/NVIS green, customizable dimming curve

HIGHEST ACCURACY
Optionally RVSM compliant, max scale error below FL200: 10ft (3m)

SUPPORTING SPECIAL OPERATIONS
Baro setting 700 – 1050mbar, Baro push-to-reset, configurable altitude alerter, optionally NVIS compliant

MINIMUM TOTAL COST OF OWNERSHIP
No re-calibration required, 21'000 hrs MTBF

OPTIONAL RVSM, NVIS

The Air Data Display AD32 combines an air data computer with a digital altimeter in a 3ATI form factor.

This makes the THOMMEN AD32 ideally suited for retrofitting aircraft (fixed wing & rotorcraft) while minimizing installation efforts and typically replacing standby altimeters at the same time.

No recalibration necessary

AD32 measures pitot and static pressure by using highly accurate and drift-free Vibrating Cylinder Technology (VCT) sensors.
These sensors are highly accurate and stable, making our AD32 virtually drift-free.

No recalibration required, effectively reducing maintenance cost.

FAA Technical Standard Order (TSO) and accuracy requirements are exceeded.

Integrated 3" Altimeter

Corrected altitude is displayed on a high contrast LCD in both digital format and analogous by a stepper motor driven pointer, while the extensive Built-In-Test guarantees safe operation.

As for all of its displays, THOMMEN offers an NVIS Green compatible lighting.

Optionally, the pilots can switch between metric and imperial altitude information.
Other products from THOMMEN AIRCRAFT EQUIPMENT