Back
Multifuction Display – 2 ATI and 3 ATI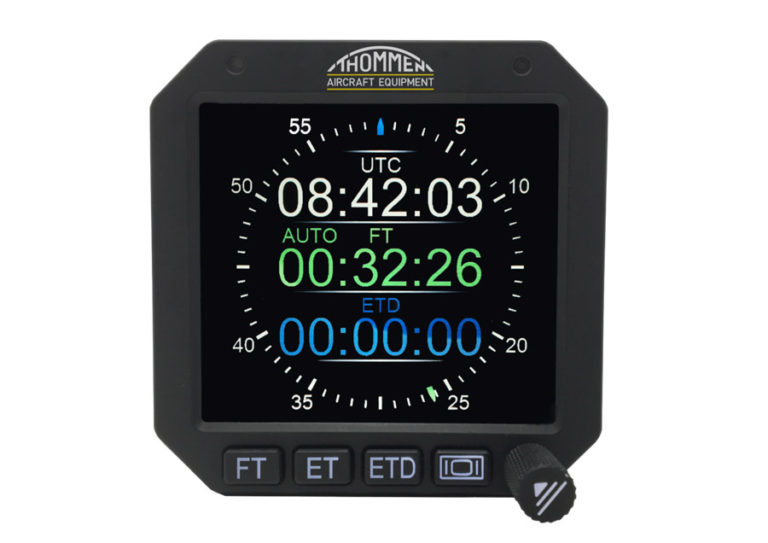 © THOMMEN AIRCRAFT EQUIPMENT
The STRATOTIMER is not just a clock! It is a flexible multifunction display (MFD) that is customized to your needs. E.g. it serves as a G-Force indicator or as a backup display showing engine monitoring information, passive TCAS and ADS-B In traffic information, mirror attitude and other main instrument indications.


We make clocks since 1853. Reason enough for us to strive for the very best when developing the next-generation cockpit chronograph:

The 2" and 3" STRATOTIMER combine a state-of-the-art, high-resolution TFT multi-function display with excellent sunlight readability and exceptional ruggedness.

On-board time management is optimized by its straightforward user interface:


·         All the important modes are visible on the display at first glance.
·         A single user-friendly "push to set" knob sets the desired time or date.
·         Like any modern personal device, advanced settings can be found in a menu.
·         For example, set flight time & UTC alarms at your convenience.
·         The STRATOTIMER's analogue sweep second indication has convinced even the most conservative pilots who had previously opted for our former mechanical products.
·         Maintenance staff will love it, too: The STRATOTIMER's super-capacitor eliminates the need for battery changes while keeping the timer alive
·         GPS synchronizable for highest precision


Types: 
Stratotimer 2″ ATI
Stratotimer 3″ ATI
Stratotimer 3″ ATI PMA LC90SR



Other products from THOMMEN AIRCRAFT EQUIPMENT